Roger Courtney was born in Portsmouth on 24th March, 1932. In his late teens Roger and his family moved to Bridport, Dorset. It was during this period of his life that his passion for music flourished. Skiffle was the music of the early 50's and along with a group of friends Roger formed the Hemp City Skiffle Group. Playing bizarre instruments like the tea chest bass, washboard and electric fire, The Skiffle Group Boys became well renowned locally and throughout Dorset and the surrounding area. In 1954 they were even spotted by a representative from EMI who put them forward for an audition with Norri Parrimore, head of Columbia Records.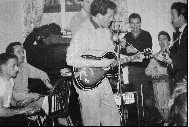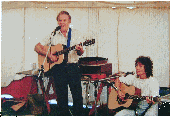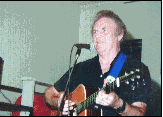 A newspaper article from 1954 quotes, "Courtney and Co. are capable of scuttling with the likes of Liberace, the Bell Boys, Bill Haley, and Elvis Presley. They are hoping to set America a whirl with a record, the way is open to fame and fortune, champagne instead of coffee." Unfortunately however, on the way to London the car broke down and the boys missed their audition and their chance of fame and fortune!
Another of Roger's 'claims to fame' was his connection to the Rolling Stones. Brian Jones placed an advert for musicians to join his band. Roger and his friend Ian Stewart decided to audition, however Roger thought he wasn't good enough so Ian went alone. Ian got the job, but not comfortable with the limelight he always played backstage. Through this connection, the Stones would often venture down to Dorset and stay at Rogers flat to listen to his rare collection of Jazz records.
During the 1960's Roger opened a photography studio, Courtney Photographic, in Palmerston Road, Southsea where he would let me use the studio and darkroom, sometimes we worked together on photo shoots and I would often shoot weddings at weekends. Roger had a huge sense of humour and became an excellent Wedding Photographer and snapped many beautiful women and famous people including Princess Anne, Tony Blackburn, Sir Alec Rose, Faith Brown and Jimmy Young.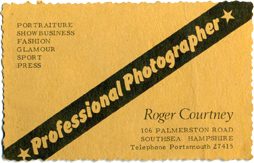 After nights out people would come back to my flat in Palmerston Road and Roger would play and sing and tell entertaining stories until the early hours. Others would be accompnying on guitars, bongos, tissue paper and combs or what ever would make a vaguely musical sound. During that time a microphone would be taped to a carpet sweeper handle to double as a mike stand and the cassette recorder switched on. From many hours of recording a CD was made called the 'Bedsit Tapes,' a collection of songs Roger had often made up as he sang. He later made an excellent commercial CD called, "Remember Me."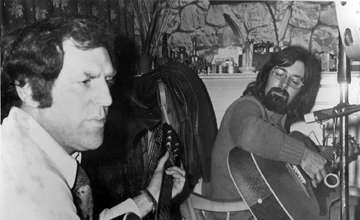 Roger, left, recording the 'Bedsit Tapes' - note the microphone, right, taped to the carpet sweeper handle.
Roger is being accompanied by Mr. MS-J.
During the 1970's Roger closed the studio and became the medical photographer at Queen Alexandra Hospital, a job he did for 25 years until his health forced him into early retirement. He had
become one of the best known names in Hampshire's folk and music circles. As well as performing regularly at all the clubs Roger became one of the most popular and best loved MC's. He compared and co-organised many a club in the south including 'The Jug O Punch', Havant; 'Willows', Arundel, 'The Titchfield Village Folk Club'; 'The Railway' and 'The Broadside', Portsmouth, to name but a few. His most successful music venture was in the six last years of his life when he ran the Rhythm Roots and Blues Roadshow in Portsmouth. This was not meant to be just a folk club but a music venue where anyone of any talent and any age could just get up and perform. It was never about egos or being an incredible musician, but a place for music lovers to get together and have some fun. Since Roger's death many people have come forward and told a similar story of how they were either new to the area, feeling low or in a rut and Roger would invite them to his club, take them under his wing, introducing them to new friends and encouraging them back into music. This was Roger, he had the ability to make a huge difference in someone's life by just being himself. Roger was a warm, genuine man, hilariously funny, very talented with a larger than life personality.
Rogers son Nick maintains a website about his father and his own musical enterprises at http://www.thursdaymusic.co.uk