British Pathe News filmed Wyllie's water borne funeral cortege as it left from Point in Old Portsmouth and journeyed up the harbour to Portchester Castle, and later filmed his son Harold working on a ship model. The film clips are in black and white with no sound, they can be viewed by clicking on the images below. The clips are preceeded by a few seconds of ads.
After Wyllie's funeral service at Portsmouth Cathedral on 6th April 1931 his coffin was driven to Point where a four foot high wreath of bronze coloured leaves and the letters,

'Thank God for the Loan of this Gentle Man'

rested upon an easel. Many people had gathered to watch Wyllie's sons and his friends from Point carry his coffin down the sloping beach and place it in the stern of the cutter from H.M.S. Nelson, loaned to the family for the occasion by their old friend Admiral Dunbar-Naismith V.C.
Manned by Wyllie's Sea Scouts, with Jones his old chauffeur at the tiller, the cutter was rowed out to the Admiral's barge waiting to take them in tow up the harbour to St. Mary's Church in the grounds of Portchester Castle.
As the cutter passed the Dockyard, bugles sounded from Victory and ensigns fluttered down flagstaffs on the battleships Nelson and Warspite.
When the cutter arrived at the Norman fortress, Wyllie's coffin was placed upon the Sea Scout's trek cart and pulled through the ancient water-gate.
The coffin was then transferred to the interlocked arms of the Scouts who carried him to his final resting place alongside his daughter Eva.
'ACROSS THE SEA HE LOVED SO WELL.'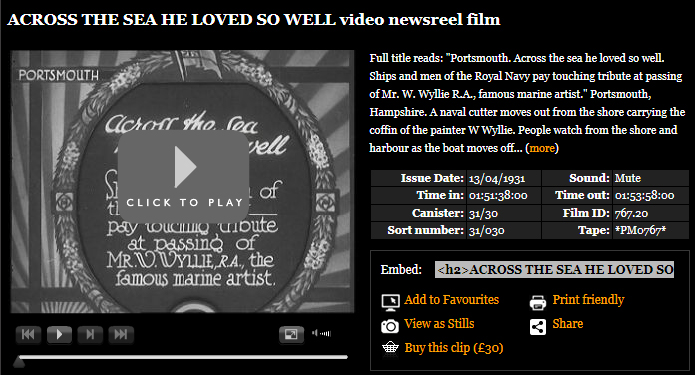 'THE MASTER MODEL'
Harold Wyllie was W.L. Wyllie's first son and an authority on the rigging of ships as well as being a good marine artist. He was also a skilled model maker, this British pathe clip from 1930 shows him working on a model of HMS Victory for the late Lord Louis Mounbatten.